Customer service quality assurance and integration with CRM
Calls from any device: mobile phone, landline phone, personal computer
Simple and intuitive configuration
Available packages
Package 5
6 000 ₸
1 virtual number
up to 5 users
Package 15
12 000 ₸
up to 3 virtual number
up to 15 users
Package 30
20 000 ₸
5 virtual number
up to 30 users
How it works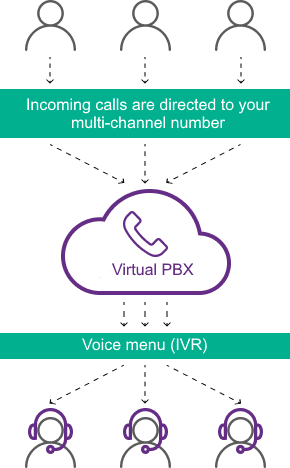 3
Make monthly payments for your package.
Manage service easily through online account
Details
Service is only available to corporate clients - legal entities and private entrepreneurs. To activate a tariff, the authorized person can:
submit a request for service;
send a request to pc@kcell.kz;
contact our representative;
call 5869 from mobile.
1 000 tenge per month per line/user.
Calls within Virtual PBX (internal numbers) and within corporate group, per minute – 0 tenge
Onnet calls, per minute - 11 tenge
Call to other KZ mobiles, per minute - 11 tenge
Call to KZ landlines, per minute - 15 tenge
Monthly fee is due on the 1st of the month following the accounting month, regardless of the date of tariff activation/deactivation. Monthly fee covers the cost of the package of inclusive minutes (except for landline calls). If tariff is activated any time after the 1st of the month, monthly fee will not be charged and monthly package of minutes will not be provided and the Client will be charged the above voice overage rates till the end of that month. All rates are shown in tenge inclusive of VAT.
No need to buy a physical PBX and pay for its maintenance
In addition to the features of an ordinary PBX, you are able to connect mobile phones and softphones
No need to install new cables or change phone numbers when you move to a new office. Simply connect your terminals to the Internet and they will start working immediately
Multiple users can answer and make calls from virtual numbers simultaneously
If your staff increases, you won't need to buy additional expensive equipment, as your virtual exchange can be extended easily
You will get web access to your online account and will be able to manage service settings.
Virtual PBX is what you need if you are running a real estate agency, an online store, restaurant, cafe, beauty salon or a retailer.
There are even more benefits for medical organizations, financial institutions, enquiry services and travel agencies.
With Virtual PBX, calls will be distributed depending on your company's work schedule. You will have a voice menu activated to prompt customers to dial an extension number, so that they can connect directly with the right person within your company without wasting time.
You will not lose a single customer! If the landline phone does not answer, calls will be forwarded to the mobile phone or (if there is still no answer) redirected to your voice mail.